It's important to ready your house for winter. One of the simplest tasks a homeowner can do to avoid pipe bursting is shut off their hose bibs.
just follow these steps:
CLOSE Valve Inside
REMOVE Garden Hose
OPEN Hose Bibb (Leave Open)
DRAIN Vacuum Breaker (location and operation vary with Mfgr.)
does the spigot have a little cap behind the valve, on top of the pipe?

if yes, no need to drain!
if no, keep reading!

does the spigot have a threaded on valve?
see the video below for help!
and finally, OPEN the bleed orifice at the inside valve (back inside your house – if you do this early, you'll make a puddle in your house, so make sure to save this step for last!)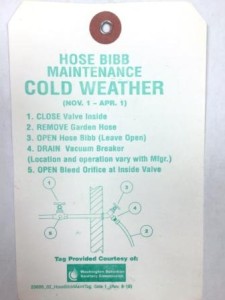 don't forget to reverse the process in the springtime!